Test Process Direct sender interfaces
If you have Iflows that are using the Process Direct then you need to deploy the Figaf Infrastructure Package.

The is an iflow called IRTHTTPtoProcessDirect that converts the HTTP request to a Process Direct.

You can find this flow in SAP API hub.

In your Cloud Integration system goto the Discover Integraiton part and search for Figaf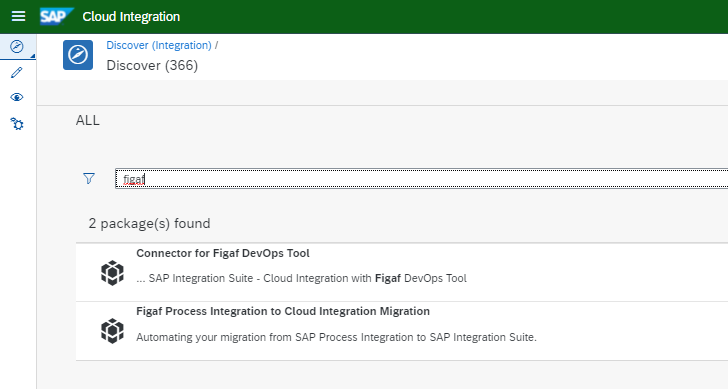 Select the package "Connector for Figaf DevOps Tool"

Select the Copy to add it to your own workspace

Now navigate to the package and deploy the two iflows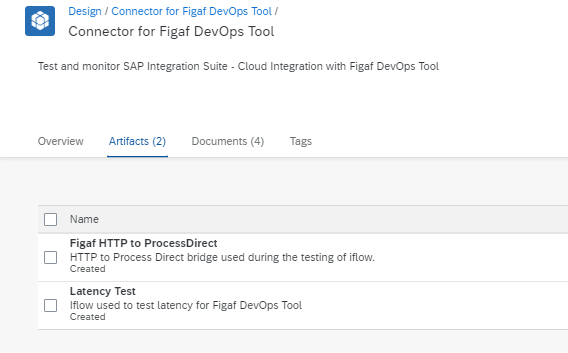 Related Articles

Transporting your migrated SAP CPI iFlows to production

See how to handle the transport of your iFlow to production ​​ Here you will see how to transport your migrated and tested iflow into production. Create a landscape for the transport. It is possible to use only one system for the setup to see the ...

Configure CPI agents

Figaf tool supports both CPI platforms: Neo and Cloud Foundry. The configuration of such agents has some differences though there are lots of common settings. You can find details about all parameters ...

Testing SAP PI to CPI Migrations

In this article, you will see how you can test how the migration of your SAP CPI migration went. We have recorded a video about how to create the testing ​ Create SAP PI Test case Find the ICO to select the recording from Create a Recording request ...

Create Service Keys for SAP CPI Cloud Foundry

For SAP CPI Cloud Foundry you have an option to use Service Keys to send messages. The Figaf Tool will not test the properties are correct before running tests. To create a service key for running test follow the procedure. 1 ) Goto SAP BTP Cockpit ...

Configure PI agents

Obtain the address to your PI System Go into the Figaf DevOps Suite and click the plus sign to add an agent Host name is how to access the system. If you are using Cloud Connecter and have deployed Figaf in BTP, you will need to use the cloud ...